The coordinating centre of the EAS Familial Hypercholesterolemia Study Collaboration (FHSC) has developed and manages a freely available global directory of lipid clinics and patient advocacy groups called "FindMyLipidCLinic.com".

In developing FindMyLipidClinic.com, the developers, and their contributors from the EAS FHSC Global Network (providing clinics' details) and the European FH Patient Network (FH Europe) (providing patients support groups' details) aim to help dyslipidaemia patients and their relatives find specialist clinicians/clinics and peer-support organisations around the world.
Available Now, FindMyLipidClinic.com a Global Web-Based Directory of Lipid Clinics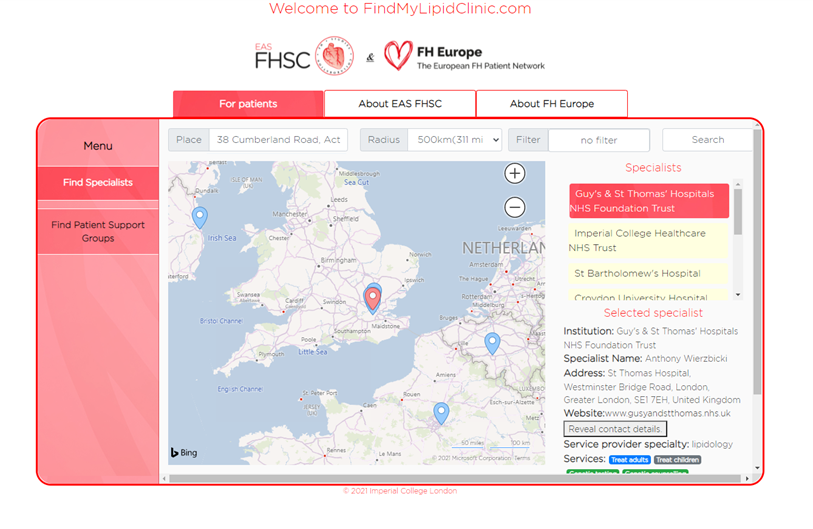 This innovative tool not only allows its users to find specialists and support organisations around a location. It goes further by allowing its users to filter specialist clinics according to the services they offer (e.g. treating adults or children, genetic testing, Lp(a) testing, which imaging test, etc.). FindMyLipidClinic.com has been translated and made available in 29 languages to reach more patients worldwide.
FindMyLipidClinic.com is GDPR compliant, it does not store any users' personal information, and is reasonably accessible to visually impaired people.
The developers invite all dyslipidaemia specialists wishing to list their clinic(s) on this directory to refer to the instructions available here (in English only).
Clinics specialising in genetic testing for FH
As part of an ongoing initiative with FHSC and national atherosclerosis societies to offer wider access to specialist services in the recognition and management of FH patients, the clinics listed below have agreed to act as referral centres for genetic testing for FH.
Country
City
Institute
Contact
Argentina
Mar del Plata
Instituto Clínica Médica, Mar del Plata
Dr Pablo Corral
Australia
Perth
Lipid Disorders Clinic
Cardometabolic Service
Department of Cardiology
Royal Perth Hospital
Prof Gerald Watts
Brazil
Sao Paulo
Portuguese: Unidade Clínica de Lípides, Instituto do Coração (InCor) Hospital das Clinicas da Faculdade de Medicina de USP
English: Lipid Clinic, Heart Institute (InCor) University of Sao Paulo Medical School Hospital
Prof Raul Santos
Canada
Montreal
The McGill University Health Center
Prof Jaques Genest
Greece
Ioannina
University of Ioannina
Prof Evangelos Liberopoulos
Israel
Jerusalem

Hadassah Medical Center Lipid Clinic

Shoshi Shpitzen, MA

Italy
Milan
University of Milan and Multimedica IRCCS
Prof Alberico L. Catapano
Latvia
Riga
Paul Stradins Clinical University Hospital
Assoc. Prof. Gustavs Latkovskis
Netherlands
Amsterdam
DNA Expertise Center, Academic Medical Centre
Prof. Joep Defesche
Norway
Oslo

National Advisory Unit for FH

//

Unit for Cardiac and Cardiovascular Genetics (UCCG) at Oslo University Hospital

Dr Martin Proven Bogsrud
Oman
Muscat
Sultan Qaboos University Hospital
Prof Khalid Al Rasadi
Portugal
Lisbon
Instituto Nacional de Saúde Doutor Ricardo Jorge
Prof Mafalda Bourbon
Russia
Moscow
Russian Cardiology Research and Production Center (Complex)
Prof Marat V. Ezhov
Saudi Arabia
Makkah
Genetic and Molecular Medicine laboratory
Umm Al-Qura University Faculty of Medicine
Al-Abedia Campus
Prof Faisal Allaf
Saudi Arabia
Riyadh
Prince Sultan Cardiac Centre
Prof Fahad Alnouri
Singapore
Singapore
Khoo Teck Puat Hospital, Alexandra Health System
Assoc Prof Tavintharan Subramaniam
Slovenia
Ljubljana
University Children's Hospital – UMC
Assoc Prof Urh Groselj
South Africa
Johannesburg
University of the Witwatersrand
Prof Frederick J. Raal
Spain
Madrid
Spanish Familial Hypercholesterolemia Foundation
Prof Pedro Mata
Sweden
Gothenburg
Lipid Clinic
Department of Cardiology
Sahlgrenska University Hospital
Prof Stefano Romeo
Sweden
Stockholm
Medicine Unit Endocrinology,
Theme Inflammation and Ageing,
Karolinska University Hospital
Prof Paolo Parini
Dr Jonas Brinck
Taiwan
Taipei
National Taiwan University Hospital and National Taiwan University College of Medicine
Dr Ta-Chen Su
Turkey
Izmir
Ege University Faculty of Medicine
Prof Meral Kayikcioglu
Uruguay
Montevideo
Comisión Honoraria Para la Salud Cardiovascular
Dr Mario Stoll
Email office@eas-society.org to be put in touch with the contacts.